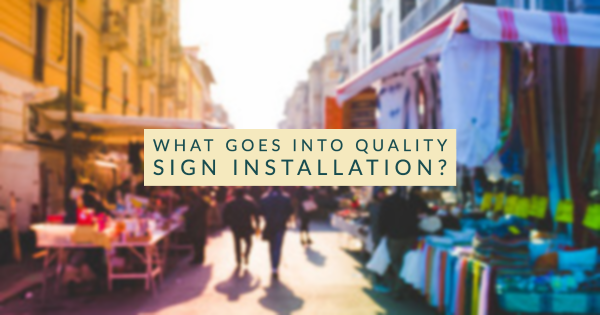 Did you know that signs are able to attract half of a start-up business's new customers? With such an important fact, the need for quality sing installation for a business is crucial. As a business owner, you are always searching for the most innovative methods to increase your visibility. As you think about a quality sign for your business, you want quality sign installation too. Let's examine what components are vital for quality sign installation and where you can get a stellar sign for your company.
Inspection of Surroundings
For quality sign installation, the sign installers will look and survey the surroundings. Your sign should not only be visible to the public, but it also has to sit or stand within an environment or atmosphere that will support it. Expert sign installers will take the time to look around your business and its surroundings. They will see what needs to be altered for your sign to be visible to as many people as possible. Expert sign installation also requires that local sign companies take into account any obstacles that may hinder the sign from being firmly planted or placed in or on the business.
Materials
Quality sign installation also encompasses the study of materials. For example, if you have a business and you need outdoor signage, then your sign installers will discuss with you how your sign will be manufactured. You may need durable plastic as well as other materials so that the sign will be able to withstand wind, rain, snow, and other natural elements if it's placed outdoors. Your expert sign installation professionals will be able to survey the inside of your business and discuss with you the best ideas for the display of your designs, based on your current business atmosphere.
Features
As a business owner, your quality sign installation will also need to include features for your signage. From neon lights to specific colors, your sign needs to stand out to attract the public to your business. Your sign installation specialists should also be able to provide you with signs that are attractive, durable, and have features that will be seen by anyone who drives by your business.
Whether you're looking for brand new signs, quality sign installation, or upgraded signs for your business, your Pittsburgh sign repair and installation experts are here to help. We provide high-quality signage for existing as well as start-up businesses.
Forget breaking the bank with signs that won't be seen from across the road. We can devise a custom lighted sign, a commercial sign design, or any other kind of sign that you need. We also can repair your signs as well as work with you on the maintenance and upkeep of your signs. Connect with us today, and learn how quality sign installation will help propel your business to new heights!