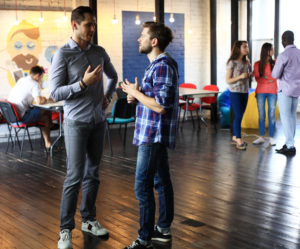 Sharing a business space presents unique advantages and challenges. On one hand, you have a potential support system of other nearby business owners, lease rates may run cheaper, and there's an established customer base coming through. On the other hand, you are competing. It can be hard to make yourself known, and potential customers may not notice a new business among neighboring businesses. Here are some tips for standing out and cultivating a successful new business in a shared space.
Make connections with your neighbors.
Your neighbors are your friends. Share and trade supplies and ideas! If you have established businesses right next to you, team up with them to tap into their existing customers. Brainstorm promotions you can create with each other to jointly drum up business.
Use signage as a separator.
When you're in a shared space, it can be difficult to differentiate businesses and stand out from the crowd. Make sure that your space has a unique vibe from your neighbors and draw customers in with visuals. Custom sign designs are a worthwhile investment for any business, but they are especially useful for businesses in a shared space where you may need to get creative due to limited or awkward-shaped space and possible restrictions on signage from leasers. Working with a professional sign company to custom signage means you get the best creative skin for the outside of your business while still following the rules.
Make your presence known.
Don't just focus on making connections and creating signage in your business space. Branch out and let your local community know that you have arrived! Reach out to other local businesses to see if you can team up for promotions or at least leave business cards. Send out coupons and flyers to local addresses. If you're in a shared business space, you need to draw potential customers into that space for them to even get a chance to make initial judgement about your business. Check what your leaser allows for outdoor/outside your storefront signage, and get a creative sign to capture the attention of passersby.
Build an image.
When decorating, advertising, and collaborating, keep a brand image in mind for your business. Visuals and vibes are key to capturing the imagination of customers. For example, about 70% of consumers have reported that they believe the quality of a business is reflected in the quality of their signage. Plan your business's aesthetic ahead of time and try to stick to it. If you have a recognizable aesthetic, standing out in a shared space is much easier.
Illuminate your space.
Circling back to custom sign designs, consider something a little "flashy" like custom lighting. Shared spaces can often feel dim and enclosed, so creating an invitingly lit space is a huge asset to your business. Consider an illuminated window or outdoor signage option, too. They're eye-catching and inviting in a dim indoor shared space, and also attention-grabbing in a space situation like a shopping plaza or strip mall.
Essentially giving your business unique character is what will jumpstart a successful time in a shared business space. Custom sign designs and creative decoration, collaboration, and keeping true to your brand make a business truly memorable for its customers. You have a good product — so get out there and really sell it!