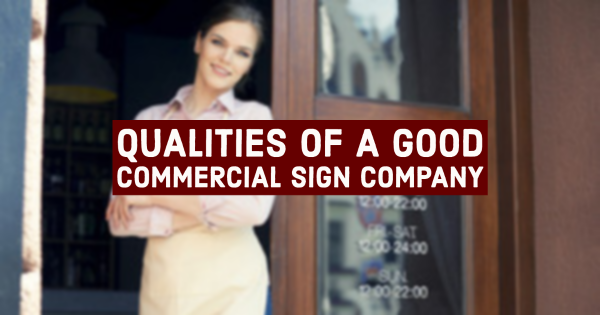 Here is how valuable a business sign is to your company: the value of on-site signage matches 24 full-page newspaper ads every year. High-quality signage will help sell your brand so you can gain traction in a competitive market. It all starts with designing a quality business sign. This is where you need the services of a sign company.
So, what should you consider when hiring a sign company, and what should a high-quality sign look like? Read on to find out.
Consider a Local Sign Company In Your Business Area
Local sign companies are best suited to design and install your commercial signage. For instance, if your business is based in Pennsylvania, a sign company in Pittsburg is ideal. Your local sign installers are conversant with all of the nitty-gritty aspects involved in sign installation in your area.
There is more to installing a business sign than just placing one on the side of the road. Sign companies must get relevant permits from the local authorities, assess the ideal location for installation, account for harsh weather experienced in the area, and consider safety issues. This applies more to outdoor business signs.
Since the local sign companies have prior experience installing custom signage in your area, they will fast track the design and installation processes. You will get your business signage fast without compromising on quality.
Consider a Sign Company's Previous Work
Some business signs are more complicated to design and install. Dimensional logos, illuminated signage, pylon signs, and ADA-compliant signs may be more complex than way-finding signs or storefront signs. The cost of installation and design also varies depending on the type of sign.
Regardless of the cost, your company sign is a long-term investment for your business. Therefore, you need the best sign company to design and install your commercial signs. The ideal sign company should have installed similar signs in your area. You will get the best quality signage from an experienced sign company.
You can trust the best sign companies in Pittsburg to design and install top-quality outdoor and indoor business signs. What are the qualities of a good business sign?
Qualities of a Good Business Sign
a. Excellent Visibility
What good is a business sign if customers can't see it? How well your sign is designed will not matter if your customers can't see it. Some of the factors that influence sign visibility include geographical location, quality of graphics, color contrast, and sign size.
b. Brief and Informative
Your business sign should only capture the essential aspects of your company. For instance, your operating hours, logo, and motto. Avoid having too much text in your commercial signage, as people may forget most of it. Additionally, the excess text will reduce the overall font of your sign and impact the visibility.
c. Your Business Sign Should Be Close To Your Business
Outdoor business signs should be near your company. This is especially true if you are in a crowded location where you share space with other companies. It will be easier for your customers to locate your business when your sign is close to its location.
d. Outdoor Signs Should Be Built to Withstand Harsh Weather
Quality outdoor commercial signs should be sturdy so they can endure adverse weather conditions experienced in your area. Your sign company should design your business sign using tough materials. The sign placement should be strategic so that it can be protected from harsh weather while still being visible. That is why you need to engage a seasoned sign company to develop and install your commercial sign.
Quality business signs will help you sell your brand to more people. About 79% of Americans remember a business based on their sign. As such, a unique, visible, and informative sign will get more customers streaming in your premises. Trust a reputable sign company to design and install your business sign.