How Offline Marketing Is Still Huge In An Online World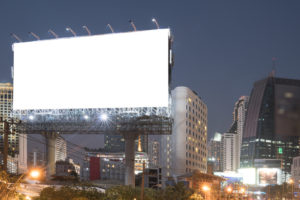 With everything moving online these days, you might think it would be hard to find a place for traditional marketing. While on the surface this seems logical, there are very good reasons signage is one of the best marketing tools available.
Traffic
If your business is in a city, placing your signage in a place that can be seen from the road while residents of the city are suck in rush hour traffic is almost guaranteed to get you some new customers.
Moving
Your potential customer pool is actually more like a river. People move into the city, people move away from the city, and this process repeats every day. A big and endless stream of new customers. In fact, 13-20% of the population moves every year. This means you could have literally thousands of new customers to acquire every year.
Promenance
Web banners, pop-up ads, and clickbait internet articles are all glossed over and largely unnoticed these days. They lack presence, something commercial signs have in spades. Custom lighting that shines on custom signs can make your branding stand out in your community.
Cost
Compared to almost any other advertising medium, signage gives you the most bang for your buck. This is typical of inbound lead generating strategies, but signage is particularly effective.
Actionability
Even though online ads promise your purchase is 'just a click away', you often have to do several thousand little things before you buy that odd looking potato dicer, and by the time you get to the point of buying it, you don't want it anymore. Well, signage is much more actionable. If you get the customer's attention, they will walk into your store. All you need to do then is have a great staff and a quality business and you're good to go.

Though internet marketing makes a big difference and can help your brand become better known, commercial signs can convert leads to customers in real time with only the slightest effort and small starting cost. If you are interested in outdoor signs for your business, contact us today. We are the best sign company Pittsburgh has ever encountered.