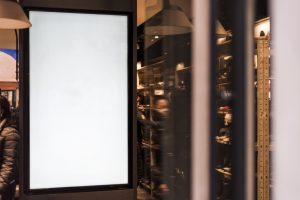 Using signs to advertise your business is a key part of any marketing strategy. In fact, signs attract about half of a start-up business' new customers, and 83% of business owners who purchased LED signs noticed a rise in sales.
Despite the benefits of commercial signs, it's easy for a business to mess up their advertising strategy and render their signs ineffective. Sometimes, businesses forget to alter their sign strategy based on whether the sign is located inside or outside.
Though they serve a similar purpose (boosting your profits), your indoor and outdoor sign strategies should have key differences. Here are two subtle but important ways good signs vary based on their location:
1. Outdoor Signs Attract, Indoor Signs Inform
First and foremost, your indoor and outdoor signs should deliver different messages because they perform slightly different functions. An outdoor sign reaches people who might have never heard of your business, so it should include your company name and something pique the interest of passersby. Indoor signs should convey more information about pricing, sales, and the items available — after all, you've already convinced the customer to come inside!
Take a coffee shop for an example. A cafe's outdoor sign should hint that the business sells amazing, artisan coffee and espresso. Inside, the messages should explain which roasts are available, while continuously pulling customers "deeper" with hints about quality, affordability, and the general awesomeness of the business.
2. Outdoor Signs Should Last, Indoor Signs Should Be Dynamic
Outdoor signs have to withstand the elements and be visible from a good distance to attract passing drivers and pedestrians. As such, they should be built to last with weather-resistant materials. Schedule regular outdoor sign repair and maintenance to keep your business sign looking fresh and appealing.
In comparison, indoor advertisements should include more changeable custom signage. Indoor signs should be easy to take down or alter when new deals or products arrive. Flyers, digital signboards, and even chalkboards might make more sense indoors since your company can easily alter the information it displays.
Whatever your business may be, ensure that you adjust your advertorial signage based on its location. While outdoor messages should be a weather-resistant way to attract customers, indoor signs should keep them coming back for more. With these signage tips, your business will be booming in no time!