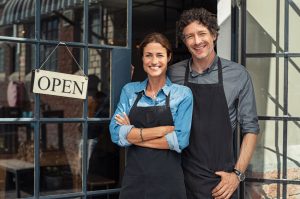 It might not seem like it makes all that much of a difference, but the quality of your company's signage is actually extremely important. Poor signage can hurt any business, even if you offer excellent products, services, and have an otherwise stellar reputation.
For newer businesses, signage is even more crucial. In fact, signs attract 50% of a startup's new customers. You have to do more than simply set up a sign or two out in front of your shop, however. You need to get a little creative with your signage design. According to Vivid Impact, roughly 60% of businesses reported that changing the design or enhancing the visibility of their signs had a positive impact on sales, number of transactions, and profits — with an average increase of about 10%.
Here are some creative ways to improve the way you physically market your business through high quality signs:
Focus on entertainment — The main purpose of commercial signage is to simply get people to enter your business, but don't ignore the importance of entertaining your guests. Signs that grab the attention of passersby are much more effective than boring, conventional, black and white sandwich signs. Don't go too wild, but some cool color schemes, a funny joke or quote, and some pictures will certainly help.
Advertise special deals and events — Welcome signs are crucial, sure. But whenever you have a special promotion or event coming up, bust out some new high quality signs to advertise your business. Whether it's a grand opening of a new store, a great deal on a featured product, or you're marketing an upcoming event, signage is a great option.
List some FAQs — If your customers frequently have a lot of questions when visiting your establishment, listing a few commonly asked questions and answers on a sign out front is a great way to help clear the air before they are ready to spend money. Obviously, you can't answer everything on a sign, but it's a good way to have more engagement with customers and prospective buyers.
If you want to learn more about creating custom sign designs and purchase some high quality signs to boost your business, give Shamrock Signs a call today!